A new law in Florida is requiring all private employers with 25 or more employees to use E-Verify in their onboarding process starting July 1, 2023.
E-Verify is a digital immigration verification tool. All employers are required to complete the I-9 form within three days of a new hire's start date to verify identity and ensure employment authorization in the United States. The E-Verify tool allows employers that have completed the Form I-9 to electronically verify employment eligibility for their new hires.
The new Florida law increases penalties against employers that knowingly hire undocumented workers. If employers use the E-Verify system, the government will assume employers haven't knowingly employed undocumented workers.
Previously, the E-Verify system was only mandatory in Florida for public employers and private employers contracting with state and local governments or receiving state incentive dollars.
Other States that currently require E-Verify include: Alabama, Arizona, Georgia, Mississippi, North Carolina, South Carolina, Tennessee, and Utah.
How to Track E-Verify Status in Your Datatech Program
You can use your Datatech software to track employees that you process through E-Verify.
To enable the e-Verified checkbox in the Employee Entry window go to Tools > Program Setup > Payroll tab > Settings.
Select the option Enable E-Verify Checkbox and re-start the program.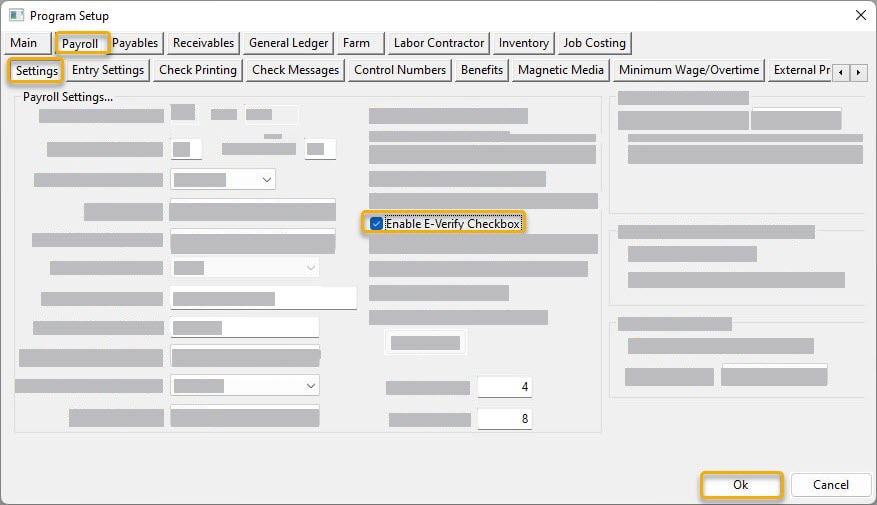 As you verify employees through the e-verify.gov portal, select the e-Verified selection on the Employee file to indicate the process is complete.
To generate a list of employees that you have not recorded as e-Verified, run the Abbreviated/Detail Employee List from the Payroll > Employee Lists menu.
Select the option Unverified S.S.'s and select whatever additional criteria might apply, including running the list by hire date or last check date.
If you have any questions on using these functions, please reach out to Support@DatatechAg.com.