The new year often brings employee pay rate changes, especially in states with minimum wage rate changes.
To quickly edit employee pay rates, a utility is available to change rates for all employees by specific rate. To use this tool go to Payroll > Utilities > Employee File Utilities.
On the Select Action page, select Change pay rate, the enter the 'from' and 'to' rates. The program will only change employees with the same rate as entered in the 'from' rate.
Start with the highest rate level to update first. For example, if you have employees you are moving from $13 to $14 and employees at $14 you want to change to $14.50, first use the utility to change from 14.00 to 14.50. Then, run through the tool again to change those at 13.00 to 14.00.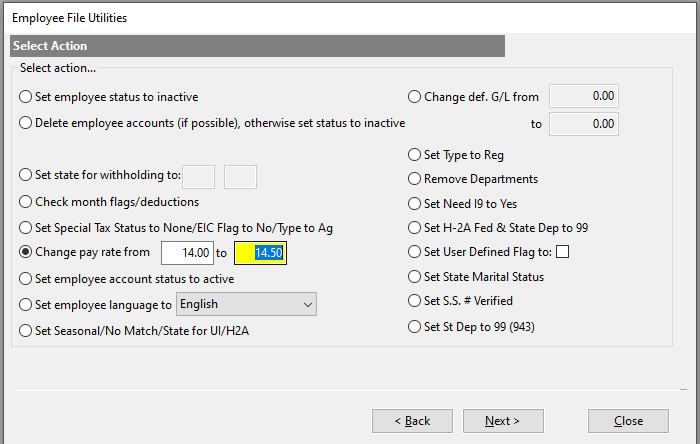 When you click Next, an optional criteria is available to apply the pay rate change only to employees hired since a specific date. Leave this blank to apply the pay rate change to all employees with the specified rate.
Note: This prompt mentions accounts being deleted based on the Cutoff Date, this only applies when you are using the Delete action.