Fresno, California – Acting Immigration and Customs Enforcement or ICE senior leader, Thomas Homan, is cracking the whip on immigration law breakers. Last fall, Homan was quoted as saying his department would step up immigration enforcement four or five times from the previous year. Datatech reported on these comments last year.
On the ICE website, Homan made a statement this week about a recent crackdown on 7-Eleven operations, "Today's actions send a strong message to U.S. businesses that hire and employ an illegal workforce: ICE will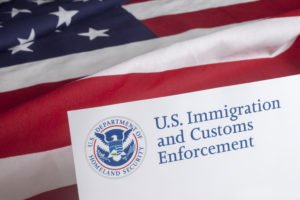 enforce the law, and if you are found to be breaking the law, you will be held accountable. Businesses that hire illegal workers are a pull factor for illegal immigration and we are working hard to remove this magnet. ICE will continue its efforts to protect jobs for American workers by eliminating unfair competitive advantages for companies that exploit illegal immigration."
Recently on a Fox News show, Homan was taking aim at California for its 'sanctuary city' and 'sanctuary state' stance, "I think it's terrible–you got the state of California that wants to put politics ahead of public safety, ahead of officer safety. What they have done is forced my officers to arrest dangerous criminals on their turf, in their homes and places of business, rather than arresting them in the safety and security of a county jail. It's ridiculous to annoyingly and intentionally put law enforcement at risk," he said.
Speaking of politicians that support 'sanctuary' policies, Homan said on the same Fox News show, "If he thinks he's protecting immigrant communities, he's doing quite the opposite because if he thinks ICE is going away, we're not. There's no sanctuary from federal law enforcement. Matter of fact we're in the process now… I'm going to significantly increase our enforcement presence in California, we're already doing it."
"California better hold on tight. They're about to see a lot more special agents, a lot more deportation hours in the state of California," he added.
Ag operations with its many farm workers are special targets of ICE and working to be in compliance with the law, says the Farm Employers Labor Service, will save Ag employers a lot of trouble and potentially lost labor. Western Grower's Jason Resnick just published an article that employers will find useful. You can access it here.
Datatech serves the Agriculture industry with accounting and payroll software that saves clients many hours a week with fast and smooth data-entry and automatic calculations of rest & recovery breaks, sick pay, piece-rate, minimum wages. Datatech HR management includes reporting health insurance, safety and worker's comp reports and other sensitive employer data.