A new option is available to change the point at which an employee's plan year rolls over.
With this change we have redesigned the Sick Pay Plan Setup.  These changes will be updated on your software with the Year End Update. 
The following information will review the changes to the Sick Pay Plan Setup window.  The Changes to Sick Pay Plan Setup (Part 2) article will cover the new roll over settings.
Sick Pay Plan Setup Layout Changes
The layout of the Sick Pay Plan Setup has been rearranged to group like settings together. This will make it more clear which settings are used for Accrual and which are used for Lump Sum plans.  Separate tabs were added to define the Plan Year Settings and the settings for when/how sick pay wages will be paid out.
For more information on how to set up Sick Pay Plans, see your Help reference.  This post will merely explain the new layout of the setup window.
Accrual Settings will appear on the first tab of the Sick Pay Plan Setup.  If you are editing/setting up a Lump Sum plan, these settings should be left blank.
Lump Sum Settings appear on the second tab.  If using the Accrual Settings tab, these settings should be left blank.
The Sick Pay Wages tab contains all of the previously existing settings, just rearranged to allow for easier entry.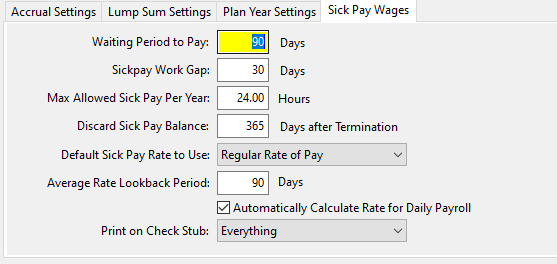 Datatech now supports Sick Pay Plans in 5 states, with varying laws and regulations.  More information and a state reference chart can be found in your Help under Contents > Sick Pay.