Fresno, California – Perhaps you saw this coming, the 2018 Farm Bill known officially as the Agriculture and Nutrition Act (H.R.2), was voted down in the House of Representatives on Friday 198-213. Datatech has been following this story for some time and this week there was a lot of wrangling to try to get this done, but in the end, there were just too many 'nays.' So now what?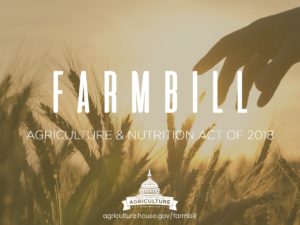 Many supporters of the Farm Bill were extremely disappointed such as House Ag Committee Chairman Mike Conaway of Texas. He Tweeted out after the defeat, "We experienced a setback today after a streak of victories all week. We may be down, but we are not out. We will deliver a strong, new farm bill on time as the President of the United States has called on us to do. Our nation's farmers and ranchers and rural America deserve nothing less."
House Ag Committee members lined up in support of the bill including Bob Goodlatte of Virginia, he posted this statement to Twitter, "I am extremely disappointed the House could not come together today and pass the Farm Bill. I urge my colleagues to come back to the table and pass a reform-minded bill as quickly as possible."
Congress has until September 30 to get a Farm Bill passed before the 2014 law sunsets. Farm Bills are brought before Congress every four years to meet the current needs of farmers, American agribusiness and the various programs under the agriculture umbrella.
So what went wrong? Analysts say conservative GOP members wanted an immediate vote on their immigration bill known as Securing America's Future Act H.R 4760. According to the author, Bob Goodlatte's website it, "The Securing America's Future Act, H.R. 4760, bolsters enforcement of existing immigration law, makes important reforms to our legal immigration programs, secures the border, and provides a legislative solution for the current beneficiaries of the Deferred Action for Childhood Arrivals (DACA) program." Goodlatte has also introduced the Agricultural Guestworker Act, a bill to create a new, workable agricultural guestworker program for America's farmers and ranchers. That bill has deep divides in ag circles including the Western Growers Association coming out against the proposal saying the cap on guestworker visas is too low. It seems GOP supporters of H.R.4760 didn't want to wait till June to vote on it and pulled support from the Farm Bill.
On the other side of the aisle, Democrats were upset on the work requirements imposed on the nutritional program known as SNAP in this new Farm Bill and voted 'nay.'
So what has to happen to pass a Farm Bill? President Trump has already voiced his support for the current Farm Bill with its work requirements. But analysts point to agreements on the immigration vote within the Republican party with their factions that need to be hammered out. They say if they can get that done, a new vote can be brought before the House on the current Farm Bill. As for the Senate, they're working on their own version of a Farm Bill with less stringent work requirements on SNAP. So before it gets to the Presidents desk, the House has to pass their version, both the House and Senate will have to negotiate a final bill and pass it. Can this get done before September 30 on a 641 page Farm Bill? On Capitol Hill, it's called having 'political will.' We'll see.
Datatech serves Agribusiness in America with time-saving farm management, payroll, and inventory and sales software solutions.