Fresno, Calif.- The challenges with finding farm labor eased up a bit as the government agency involved with processing H-2A petitions for temporary farm workers has streamlined some of their efforts. This move by the United States Customs and Immigration Service has been generally applauded among Agriculture circles.
Beginning on Wednesday May, 11 the USCIS has begun an 'E-Approval' service for H-2A applicants. Additionally, the USCIS will begin using pre-paid mailers provided by petitioners to send out receipt notices for H-2A petitions starting on Wednesday. This is a change from standard processing at USCIS service centers, which normally use pre-paid mailers only for final decision notices.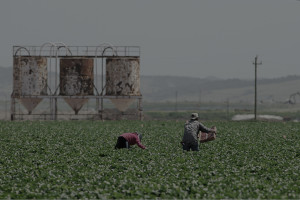 Western Growers leader, Tom Nassif calls this move, "A good start." He went on to say that these new procedures is welcome news to the stressed out growers being forced to rely on H-2A farm labor, "High on the list of issues is simplifying the H-2A Program. Just last month, our Chairman and members of our board met with officials from each of the processing agencies to hear our concerns and solutions. We greatly appreciated their willingness to do so and are very pleased that they heard us."
Ag experts say the need to harvest crops on time has been sorely stressed as more farm laborers have been hard to come by. The H-2A program has been the only source to improve numbers and meet harvesting deadlines. That has been a challenge since Congress has refused to move immigration reform along and growers have been forced to rely on a slow moving system to improve the workforce.
The USCIS will continue to post updates to My Case Status online upon approving a case and mailing approval notices to petitioners. If you'd like more information on how USCIS will mail notices to petitioners and the new procedure using pre-paid mailers, see the Web alert about using prepaid mailers for H-2A petitions. Employers will not be charged any additional fees for the USCIS/Department of State e-Approval process.
So here are the goals the USCIS/DOS e-Approval process is seeking meet:
Reduce delays for U.S. employers that wish to employ H-2A agricultural workers;
Reduce the amount of paperwork between USCIS and DOS;
Replace the current paper-based USCIS/DOS notification process with an electronic process that will make the visa process more efficient for our customers; and
Provide greater efficiency and consistency in transmitting information to DOS consular posts.
Ag leaders vow to continue to press the USCIS, DOS and the U.S. Department of Labor to streamline measures that will provide for a sustainable and timely farm labor workforce.
Datatech is a leader in Ag accounting, payroll, inventory and Human Resources software. You'll find us in 21 states and we're centered in the agricultural heart of the Central Valley of California.