For customers using Gmail to send emails through their Datatech Software, Google is disabling a feature currently used by your Datatech Software on May 30, 2022. They will now be requiring you to use an App Password instead of your Google Account password. This means that for you to continue sending emails through your Datatech software using Gmail, you will need to follow the instructions in this article to quickly create an App Password in your Google Account and update your email password in your Datatech Accounting Software. 
The two main advantages to using an app password are:



It does not provide access to your entire Google account. That means if someone steals your app password, they will not be able to log in to your Google account.
An app password can also be revoked. If someone were to get the app password and use it to send spam emails with your account, the app password can be easily revoked from your Google account settings and it will no longer be usable.
Note: You do not need to change your main Google Account password. Changing your main password may revoke a previously created App Password.
You must complete the following three steps before May 30, 2022. Otherwise, your email will no longer work in connection with your Datatech software.
Enable 2-Step Verification in your Google account, if you have not already done so.
Set up an App Password in your Google account.
Enter your new app password into your Datatech software Operator Setup settings.
Set Up an App Password in Your Google Account
1. Start by selecting your Google account Profile icon > Manage Your Google Account > Security.
Important: Make sure you are in the correct Gmail account.
2. Select App Passwords in the Signing in to Google section. You will have to re-enter your Google account password at this time.
3. Select Mail from the Select app drop-down menu. Then select a Device.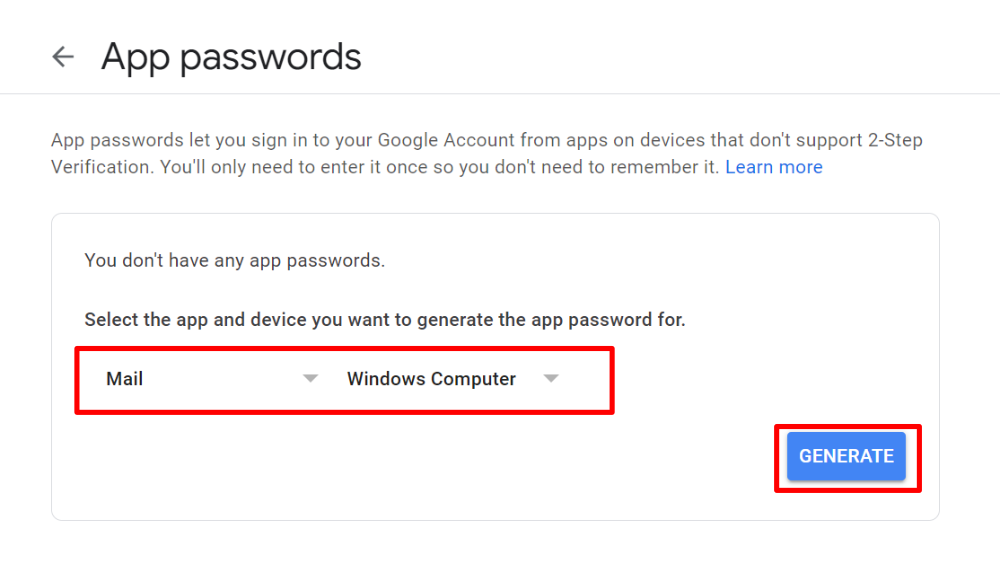 4. Click Generate. Your password will appear in a new window. Do not close this window until you have entered the password into your Datatech Operator Setup. 
Warning: You will NOT see the password again, so save this password into your Datatech program immediately. If you lose this password before you have saved it, simply delete this App Password and generate a new one. 
Adding Your App Password to Your Datatech Software
1. Open your Datatech program and go to Tools > Setup Operators.
2. Open the operator account connected to the SMTP email. 
3. Copy and paste the new App Password into the SMTP Password and Retype Password entries. 
4. Click Save. We recommend sending a test email to confirm everything has been set up correctly.